Our New Hampshire campground is located right between two rivers - one of which being the Saco River! Aside from beautiful riverfront views, the Saco River also provides the opportunity for swimming, tubing, and more! Keep reading to see the benefits of camping on the Saco River.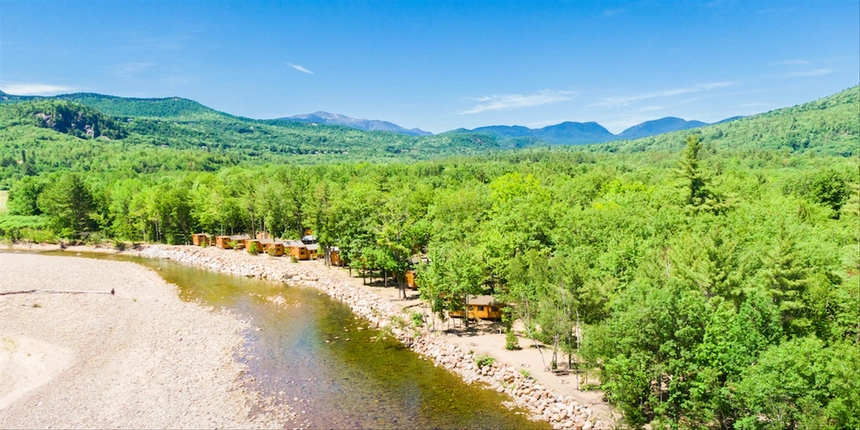 Cabin Camping on the Saco River
If you're a glamper and you prefer a luxurious camping experience over a traditional, rustic one, we have cabins that will still give you that outdoorsy, riverfront feel but still provide the luxuries and conveniences of a home. Camping on the Saco River has never been easier at our New Hampshire campground!
Riverfront Saco Sunset Cabins
You can clearly view the sunset over the Saco River when you choose one of our
Riverfront Saco Sunset Cabins
! Sleep up to 7 comfortably with two private bedrooms and enjoy features like a full kitchen, bathroom, picnic table, and fire ring. These cabins line the river and are right near our tube drop-in for easy river-tubing access!
Saco Riverfront Glamping Pods
Our
Saco Riverfront Glamping Pods
are the perfect accommodation for those who like the idea of tent camping, but want it to be a little bit more of a glamorous experience. These pods are lined right along the Saco River so you can wake up to the sound of the river. Enjoy watching the river flow on comfortable patio chairs out front, and sleep up to 4 inside the glamping pod. Plus, this accommodation comes with a fire ring, patio, and a grill!
Ranger's Retreat Cabins
Located right next to the swimming hole on the Saco River, our
Ranger's Retreat
cabins are spacious and are great for big families who love to swim! Enjoy prime riverfront views from the luxury of a private, screened-in porch. Inside, you can enjoy your full kitchen, bathroom, and sleeping accommodations for up to 7. Plus, enjoy the riverfront views around the campfire with the fire pit included in this New Hampshire cabin rental!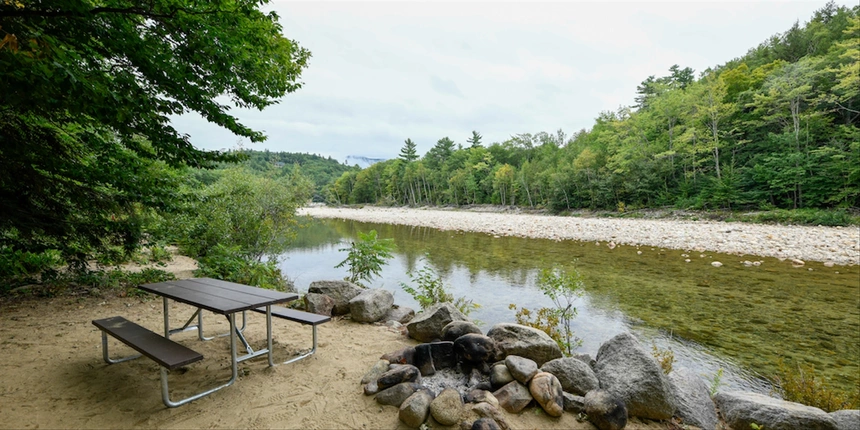 RV & Tent Camping on the Saco River
If you're more of a traditional camper but want to be along the water, we have RV and tent sites that make for the perfect Saco River camping spot. Truly unplug and connect with nature when you choose a spot along the Saco River. From full hook-ups to rustic set-ups, we've got an option for every type of camper!
Riverfront Standard RV/Tent Sites
Our
Riverfront Standard RV/Tent Sites
can accommodate RVers and tent campers alike! You get a prime view of the Saco River as well as a prime spot if you like fishing or relaxing on our sandy beach! Enjoy water, sewer, and electric hook-ups when you choose this campsite type for your next Saco River camping trip.
Riverfront Wilderness Tent Sites
If you prefer tent camping and don't need all the extra bells and whistles that come with our Riverfront Standard Sites, our
Riverfront Wilderness Tent Sites
are for you! Located in a wooded area along the Saco River, these private sites are spacious and quiet. Enjoy amenities like 20-amp electric and water hook-ups. Plus, you can watch the river sitting at the picnic table or around the fire pit!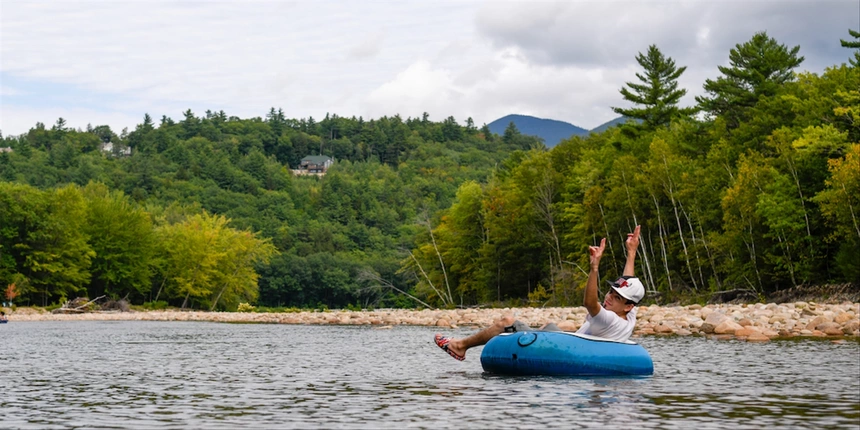 Water Attractions
Not only does the Saco River make for a peaceful spot with prime riverfront views from your cabin or campsite, but there are also various activities it provides as well! Tubing is a fan favorite at our Saco River campground. You can rent a tube at the Ranger Station - or bring your own - drop it in the water, and let the river take you away! You can learn more about our tube rentals
here
. If you don't want to rent a tube, no problem - you can hop in the swimming hole and enjoy the coolness of the river in a peaceful area - plus, this is the most scenic area of our park with mountain views in the distance! If you don't want to get in the river, you can enjoy great fishing or just relaxing on the sandy beach. No matter what water attraction you prefer, the Saco River has it all!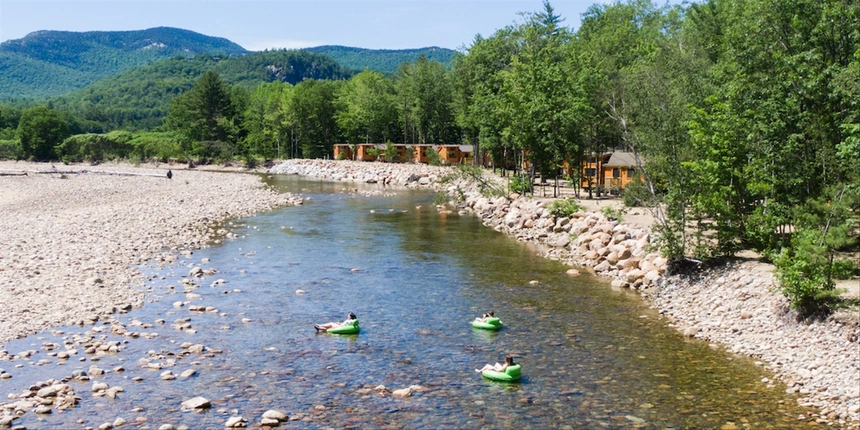 Fun Facts About the Saco River
The Saco River runs 1,700 square miles through both New Hampshire and Maine, running southeast for 125 miles! Originating from the Eastern Abenaki, the word "Saco" means "land where the river comes out." The Wabanaki people have inhabited the land along the Saco River for thousands of years. Today, we get to enjoy the Saco River while hiking in the White Mountains, tubing, kayaking, swimming, and in many other ways.
As you can see, the Saco River holds a lot of historical importance, as well as importance to our New Hampshire campground! Providing gorgeous riverfront views for our campers, fun attractions in the water, and peaceful river sounds, we are grateful to be a campground on the Saco River to enjoy all of these wonderful benefits and share them with you! Next time you're picking out your cabin or campsite, consider camping on the Saco River for even more fun.