When planning the perfect trip to anywhere, food is a huge consideration. It can be stressful trying to find the perfect place to eat for the family or a nice brewery or winery to visit on your own. Fortunately, when it comes to the city of Glen, NH we've got you covered. Jellystone Park™ Glen Ellis, nestled in the White Mountains, is tucked away just outside of Glen. As a result, we've become experts on the area. Below, we've outlined a few restaurants, wineries, and breweries that we personally recommend and hope you give a try during your next visit!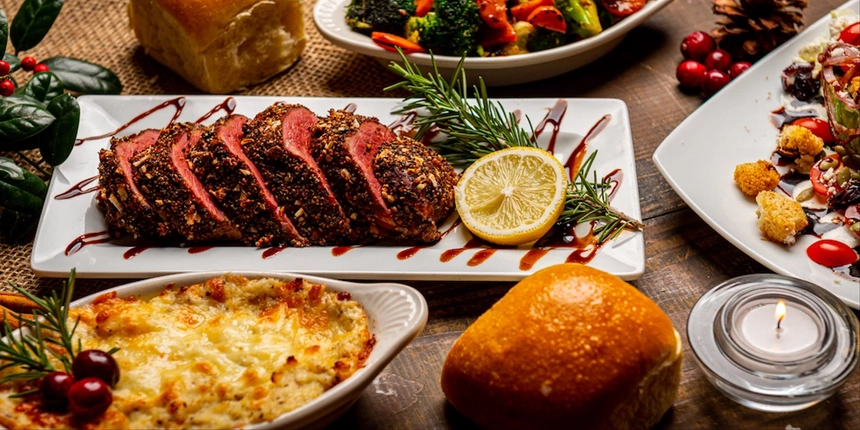 Restaurants
Finding a place to sit down and grab a bite can be tough. With so many different options and varying reviews, it can be difficult figuring out what places are truly good. Well, we can help with that! The Glen area has tons of restaurants to choose from with delicious food options. We've compiled our top five Glen, NH restaurants below!
Red Fox Bar & Grille
Red Fox Bar & Grille is the restaurant for the Wentworth Golf Club, named after stories of a red fox on the course who gained fame from stealing golf balls during games. The restaurant has some fantastic food options including flame grilled chicken, seafood, and steaks. They also have great desserts like their carrot cake and NY style cheesecake. The cherry on top of it all though, is that they serve a few of the beers from the breweries down below, giving you a chance to try these New Hampshire breweries without having to visit the taphouse.
Joseph's Spaghetti Shed
Joseph's Spaghetti Shed has been in operation since 1984, named after the owner's grandfather. This small shed has grown to be a household name! They are take-out only, but worth ordering regardless. They have their own delicious homemade bread, and use it for garlic bread, sandwiches, and more. Try their meatball sub for yourself and see just how fresh the bread is! They also have great desserts like their tiramisu, pies, and bread pudding. Joseph's Spaghetti Shed is a must for anyone in the Glen, NH area.
Table and Tonic
Need a spot for brunch? Table and Tonic is the place for you. They are a solar-powered farm to table deli and cafe. They have delicious breakfast and lunch options including some great vegan and vegetarian options. They offer some great food, but also are dedicated to sustainability and conservation serving local ingredients whenever they can. Give their breakfast burrito, turkey pesto wrap, or tempeh salad wrap a try!
Thompson House Eatery
If you're looking for a restaurant in Glen, NH for a nice date night, check out the Thompson House Eatery for some extravagant fine dining options. The Thompson House Eatery's head chef is an amazing chef and has been nominated for the James Beard award two years in a row! They are exceptionally farm-to-table, as a result of the farm right on the property. Almost everything you eat while there is grown right on the property - and it shows! The food is fresh and delicious and is absolutely worth trying if you're in the area.
Delaney's Hole in the Wall
Delaney's Hole in the Wall is probably one of the only restaurants in the country to serve juicy american burgers and sushi under the same roof and do them both well. Yet this anomaly manages to knock it out of the park with both of them. This upbeat sports bar is a great place for anyone looking to get some great food and service. Delaney's Hole in the Wall is one shocking place that will not disappoint.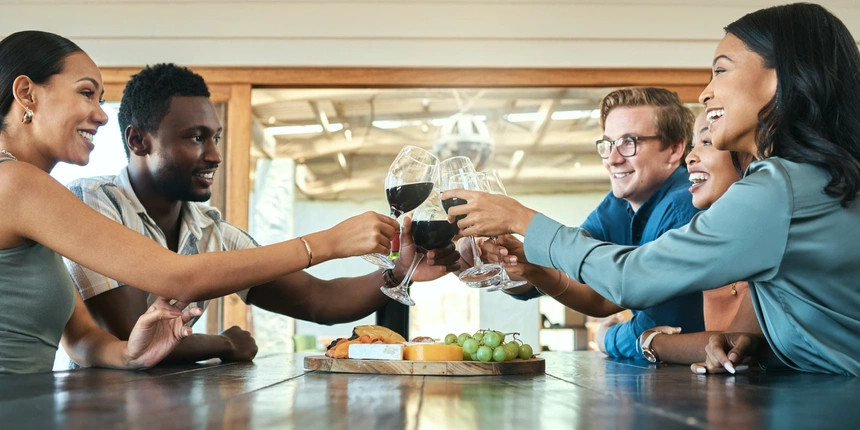 Wineries
The terrier of New Hampshire is not something talked about often, but maybe it should be. New Hampshire has some pretty great growing conditions if you know where to look. Fortunately, you don't have to, all of the wineries below have already done the hard work for you. Finding the perfect place to set up their wineries, all you have to do is visit and ask for a drink.
White Mountain Winery
Winemakers Byron and Ali didn't start their careers wanting to be winemakers, in fact they didn't really care for wine all that much. That was until they found a passion for fruit wines and decided to open White Mountian Winery. Since then, they have branched out more in their taste in wines and have grown to incorporate a large variety of reds, whites, and of course fruit wines. For anyone wanting to visit this New Hampshire winery, their hours are Thursday and Sunday from 12pm-4pm and Friday and Saturday from 12pm-5pm.
Hermit Woods Winery and Eatery
Hermit Woods Winery was voted the 4th best tasting room in the entire country, even still they strive to improve constantly. At Hermit Woods, they have a superb wine tasting where every wine is meticulously described, covering everything from what the wine is made from to what the experience of drinking the wine might be. They aim to make classical wines that can be enjoyed alongside many other wines that the taster enjoys. This winery in New Hampshire also serve a lot of great food and have made themselves known as not only one of the best wineries but also one of the best restaurants in the area.
Copper Beech Winery
Copper Beech Winery is a very small winery in the woods of New Hampshire. They specialize in fruit wines made from fresh local fruits. They first opened in 2014 and within two months of opening, they already started winning medals. They aim to make their fruit wines on the dryer side and are all aged a year before bottling. They offer great wine tastings for you to enjoy but their hours vary, so make sure to check their Facebook page to see the hours for the day before you visit.
Whippletree Winery
Whippletree Winery, operating out of a small 1940s summer cottage, is also located in the woods and offers a relaxing, "off the beaten path" atmosphere. They have a great selection of fine, award-winning wines for you to enjoy. Come take a seat in their tasting room and feel like you've visited an old friend's house, with cute antique decor and owners that care deeply for the craft. This winery is one of the most cozy and friendly tasting rooms you'll ever see.
Seven Birches Winery
Seven Birches Winery is a winery with two different locations for tastings. They produce two different brands of wine, Seven Birches Winery and Rhythm Handcrafted Beverages; they both have tasting rooms and have their own unique profiles. Seven Birches highlights European grape varieties and produces classical and distinctive wines. Their other line, Rhythm Handcrafted Beverages, makes a variety of ciders, mead, seltzers and other fun unique beverages. You can't go wrong at this New Hampshire winery!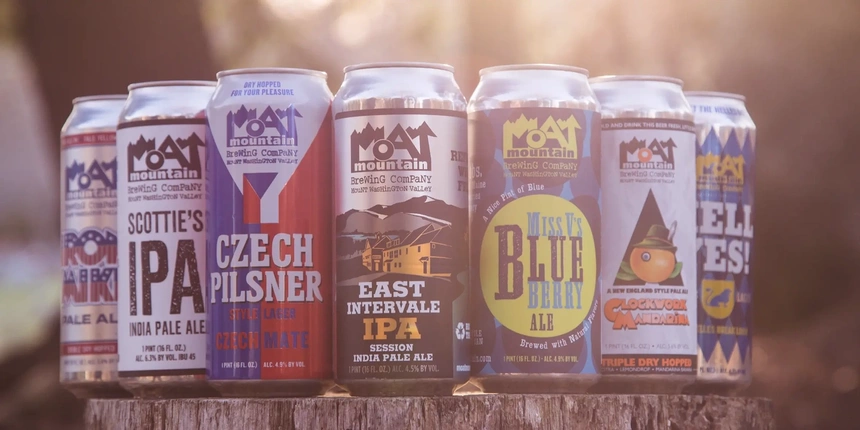 Photo courtesy of Moat Mountian Brewing Co. website
Breweries
Glen, NH offers plenty of breweries but finding the best ones to visit can be tricky. Fortunately, if you're looking for a cold one in Glen or trying to sample some craft brews, these five breweries we've compiled below should have you covered.
Ledge Brewing Company
Ledge Brewing Company is a craft brewery whose beers "pair well with outdoor adventures." This brewery makes a variety of different beers and aims to exceed expectations with a variety of different beer styles. From German and Belgian style beers, different IPAs, and more, the Ledge Brewing Company always has a bunch of different options for you to try. Their brewery also hosts many different events like table tennis tournaments, open mic nights, Acoustic Sundays, and even live music. Make sure to check the events calendar for information before you go.
Moat Mountain Smokehouse & Brewing
This brewery was one of the first breweries in the area and has a ton of great beers and great food. Moat Mountain has a huge menu for food ranging from nachos, salads, burgers, pizza, sandwiches, brisket, and even more. They have a giant menu for you to choose from with tastes to fit any craving. The real specialty of this New Hampshire brewery, however, is their unique flavor profiles in their beers. With hints of banana, blueberry, caramel, and more, these beers have a huge variety in taste.
Saco River Brewing
Head brewer, Mason Irish, got his start in brewing in the 90s in his dorm room at UMaine. He later would return to brewing after a long break in 2016 when he opened Saco River Brewing. They have a wide variety of extremely solid beers to try as well as some extremely unique ones. Saco River Brewing has even taken a giant pumpkin to help ferment their beer making several local news channels. Give them a try if you're in the area looking for one of the best New Hampshire breweries!
Dam Brewhouse
The Dam Brewhouse, owned by Sarah Dreshaj and John Anderson, keeps about 10 different beers on tap at any given time. They aim to create a community around their beers and use their taphouse and beer garden as a community center for old friends and new ones to meet. They "make the beers you want to drink" with their simple and delicious beers. Bring a friend, and make some new ones at the Dam Brewhouse when you visit during your New Hampshire camping trip.
Tuckerman's Brewing
Tuckerman's Brewing Company was founded in 1998 by Kirsten Neves and Nik Stanciu. This brewery in New Hampshire started in a small garage, but the business grew quickly and eventually settled down in their current location. This location now houses the production, the packaging, the beer garden, and tasting room. They make a wide range of great beers like their original Pale Ale, the first beer they ever produced, as well as tons of others worth trying if you're in the area.
Whether you're looking for a nice family restaurant, a beautiful vineyard & winery, or a cozy taproom to discover, Glen, NH has a place for you. If you need a place to stay while out here though, check out our Camp-Resort, as we are only a short distance from all of these excellent spots! To book your stay, call (603) 383-4567 or click
here
to view availability. We look forward to seeing you soon!